Owned by Barbara Strawson and Jennifer Foulon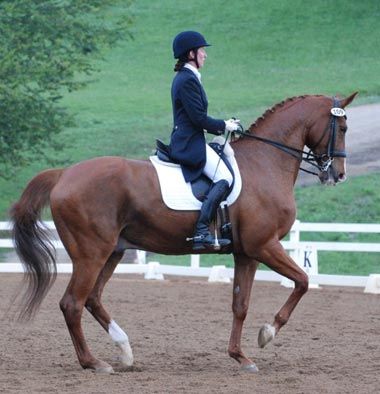 1996 Holsteiner gelding, 17.2 H
Amigo xx – Calypso III – Napoleon
We lost Amicelli in January 2017. Please read Barbaras' tribute to him. He was a magnificent spirit and we miss him every day.
Amicelli, ridden by Barbara Strawson, joined Team Strawson in December 2011.
Amicelli had a stellar career as a Grand Prix competitor throughout Canada and the United States. Amicelli enjoyed his work and competition. He also loved to be the center of attention.
Amicelli's Career Highlights include:
Successful at Grand Prix and Grand Prix Freestyle with scores up to 76%
2012 – 2016: Multiple championships and Reserves at open, local and regional competitions.
2010: Dressage at Devon – Grand Prix (2nd place) and Grand Prix Special (4th Place)
2009: Invited to compete at the World Dressage Masters CDI 5* in Wellington, FL
April 2009: Dressage Canada "Red Scarf" Athlete of the Month
2008 & 2009: Short-listed for the Canadian Team
2008: Blainville DCI – Grand Prix and Grand Prix Special (both 1st place)