Coming together is a beginning. Keeping together is progress. Working together is success — Henry Ford, Founder Ford Motor Company
Barbara's concept of a "Journey To Excellence" applies for each individual horse and rider team and is the cornerstone of Barbara Strawson, LLC.
Barbara cares about your goals and wants to help you achieve them. Barbara is currently active as a top-level dressage competitor and believes that dedication to excellence is the clearest pathway towards seeing goals accomplished.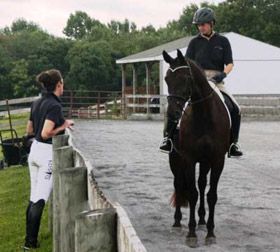 Before engaging in a training agreement, Barbara evaluates both horse and rider. Together they discuss and document realistic goals and a timeframe for achieving them. Specific services include training of the horse, training horse/rider teams, show preparation and campaigning, and preparing horses for sale.
Barbara works with each client, insuring that each individual is working towards their goals. She communicates with warmth and dedication. Barbara gives attention to rider position, helps the client understand horse and rider body mechanics (both together and as individuals) and brings a thorough understanding of the sport through her own experience at the highest levels.
Barbara's own dedication to excellence, attention to detail and thorough commitment to the well-being of the horse throughout the training process is the model by which clients can flourish. The Team Strawson approach fosters a collegial but individualized environment where horse/rider teams advance efficiently up the dressage levels, to achieve their goals.
Team Strawson Services
Training
Barbara provides full-time training and show campaigning through FEI Grand Prix, and customized training programs based on the unique needs of clients and their horses. Training occurs at Barbara's farm, Misty Gleann.
Full training for campaign horses
Intensive training options:

Bring your horse for a weekend of focused training
Bring/send your horse for short term training – up to 3 months
Lessons
Private sessions accelerate learning with a focused approach to classical training and progression through the levels.
Trailer-in lessons at Misty Gleann
Barbara travels to several local farms on a limited basis to provide lessons
Barbara provides coaching at shows for students in her training, lesson, or clinic programs
Barbara helps clients earn their USDF Bronze, Silver, and Gold Medals
Clinics
Barbara holds regular clinics nationwide upon request
As a Balimo™ Graduate Core Instructor, Barbara offers clinics for instructors and riders that integrate the Balimo Equestrian Training Program principles in their work
Misty Gleann hosts clinics with guest instructors including Nicole Uphoff, George Williams, Grant Schneidman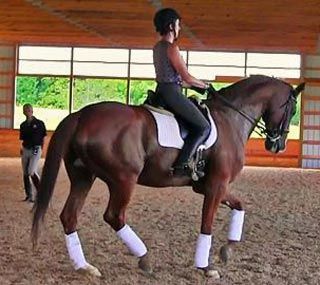 Sales
Occasionally, Barbara offers her own or client-owned horses for sale. When offered, horses for sale will be listed here.
Community
Barbara and her team regularly contribute their time and talents to community events. Learn more about the most current community events, courtesy of Team Strawson.