Heinrich's Diary: My Excellent FL Adventures: January 2021 - Entry #1
Details

Category: Heinrich's Diary Blog
January 7, 2021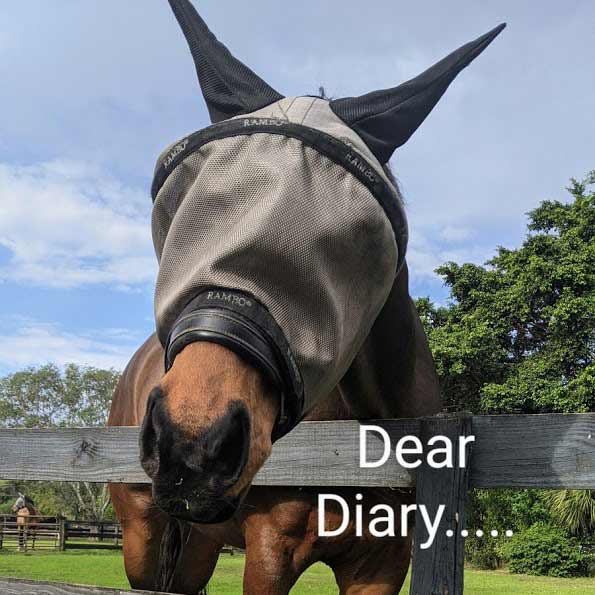 My person has been so preoccupied with a lot of things, I haven't gotten her to write in my diary for awhile. (I am so smart but I still haven't figured out how to type with my hooves). I think the last time was my Covid update. So there hasn't been much to write since we are still in the Covid times. Everything sure did change since last winter.
There have been some silver linings though ... My person's person is home a lot and he even comes out to watch us ride in our Pixio lessons with Nicole. It's so fun when we have the lessons because Nicole tells me how beautiful I am, how my muscle has changed, and how I am just the perfect horse who can do no wrong. Yet she tells my person what to do better so I look even more beautiful. It's never my fault, always hers.... hehehehe. I am not sure she agrees?
The other silver lining is that my person received the Inaugural Team Tate Mentorship and Leadership Fund Grant. We were so honored to receive this. It can be used for several things. One purpose of the grant is to promote leadership and mentorship in the horse world. My person said she has been lucky to have wonderful mentors and opportunities and is excited to have the opportunity to further develop these skills and relationships. She is using part of the grant to develop her relationship with George Williams and work together with George in helping me take my next training step - into FEI (for our humans who don't know what this is, it is the international level competition). George is a very good teacher and has offered guidance and advise to my person on several occasions.
Read more: Heinrich's Diary: My Excellent FL Adventures: January 2021 - Entry #1