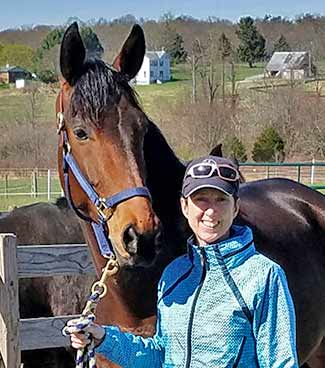 On February 26, 2011 a cute, long eared foal was born on Hof Ettwig in Germany. Two years later, Nicole Uphoff-Selke drove down the farm driveway to see if this was the place to bring her horse Riverdance for boarding. The first thing she saw was 2 year old Heinrich, lovingly called Heinrich by his breeders and owners, Insa and Dirk Ettwig. Heinrich Heine is Heinrich's father, so Heinrich stuck as a barn name. But when it was time to register him with the Hanoverian society, they gave him the more sophisticated name of Heinemann.
Heinrich caught Nicole's eye from the beginning. She loved him and visited him every day when she was in the stable. Nicole always thought she would like to have him as her horse, but she had River, the beautiful bay mare, and 2 lovely boys to raise and a wonderful husband, so having Heinrich join their family was just not in the cards.
Nicole's student and friend, Barbara, came to Germany to visit for a special birthday present from Barbara's husband Brian, two years later. Heinrich was four years old at this time. Barbara told Nicole that someday soon she would be looking for her next horse. Barbara rode 3 horses at Hof Ettwig, but from the start she thought there was a connection with Heinrich.
However, Barbara and Brian, having just bought their own farm a couple of years before, were not in a position to purchase Heinrich or any other horse at the time. Barbara continued to work at her farm and show her wonderful Grand Prix horse, Amicelli. Barbara gets focused on her work and what she is doing in the moment, and sometimes finds it hard to find the time to plan ahead. Though she knew it was past time to work on building her string of dressage horses. She tried this at various times, but so far, nothing had worked out.
Barbara and Brian had one friend, Sara Greenberg, who said "when you are ready to look for a horse, I would love to help you and be a part of the journey. You deserve to have a special horse". So over the next year or so, Barbara and Sara continued periodically to talk about the special horse Barbara would one day have to ride.
During this time, Barbara and Brian became good friends with Susan, who was renting the room in their downstairs. Susan also saw that Barbara needed an upcoming dressage partner and became the driving force behind the Join the Journey Fundraiser! Susan guided both Barbara and Brian in seeking sponsorship. Norma Lynn connected Barbara with some of her friends who guided Barbara in how to approach the task of raising money.
Eventually Susan said, Barbara you need to just have a fundraiser. Barbara thought, well how can I do that, I don't even have a new horse to raise money for! Thinking the fundraiser would be to help fund the competition expenses of a horse. Susan said, you just need to raise money to help you buy the horse. Wow…. Ok, so it was.
Barbara's wonderful team of supporters all gathered together to put into action the Join the Journey Fundraiser in the summer of 2016!
In the meantime, Insa continued to train and compete Heinrich. He had such a wonderful experience growing up. In the summer of 2016 he and Insa were invited to give a demonstration for the Hanoverian society at the Wickrath Castle grounds. Nicole, Insa and Heinrich worked very hard to prepare for this.
So while Barbara's team prepared the fundraiser, Heinrich's team got him ready to show off in Wickrath! Luckily, Nicole was able to video this event.
The summer of 2016 was a big summer for everyone. Barbara's godson Patrick came to visit for the summer. Nicole brought him, and planned to attend the fundraiser while she was there. She also taught a clinic at the same time. Nicole agreed to talk about her experiences as an Olympian at the fundraiser.
The fundraiser was an inspiring event. Not only did it raise money, but everyone involved got to become a part of Heinrich's story and get excited about the Journey. Nicole showed the video of Heinrich at the fundraiser and told everyone how this could be a horse for Barbara's future.
After the excitement and momentum of the fundraiser, Barbara and Brian still had to work hard to bring everything together in order for Barb to be able to think about a horse purchase.
Finally, the day came when Barbara planned her trip to Germany, she went in January 2017. She definitely planned to see Heinrich, but she also wanted to see other horses as well. She was a bit nervous, what if she didn't like Heinrich as much as Nicole did? Heinrich was the first horse Barbara rode on this German trip. She loved him immediately. She continued to look at other horses and really liked several of them. However, she couldn't stop thinking about Heinrich. She was thinking it was time to call off the search, however, she wanted to run it by Brian. When she talked to Brian that night, she just told him how she liked the other horses, but couldn't stop thinking of Heinrich. Before Barbara could say more, Brian said… don't waste any time, you ought to put his purchase in motion!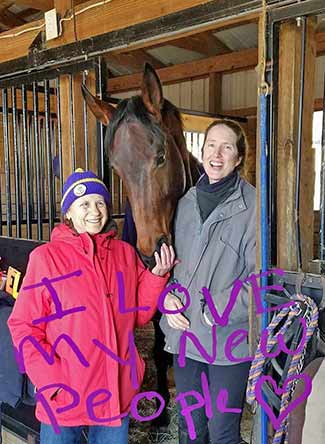 Heinrich arrived in the United States on February 28, and arrived to Misty Gleann on March 3, 2017. The happy owners of Heinemann SBG (which will be his official registered name in the USA) are Barbara and Brian, Sara Greenberg and the Join the Journey Fundraising participants of 2016!
Barbara and Heinrich are excited to be developing their partnership and look forward to the new journey together. Heinrich also is keeping his own version of events in his diary which he posts on Barbara's Facebook page. One day he might even have his own FB page.
Heinrich knows he has big shoes to fill. Two days before Barbara left for her German trip, she lost her Grand Prix partner, Amicelli. He had broken his pelvis in the fall of 2017 and in January just wasn't able to hold on any longer. Amicelli and Barbara were partners for a short 5 years. He also helped with the fundraiser by performing his winning freestyle with Barbara. Fortunately, the trip was already planned, as it would have been very hard for Barbara to look ahead having just lost Amicelli.
However, things work in mysterious ways and you can't help but wonder if Amicelli held on until he knew Barbara would be OK and on the path with a new partner.
Heinrich and Barbara formed an instant bond and thanks to the expertise of Nicole, the support of many friends and family and a dose of good luck, they are together and beginning a wonderful journey together.