Barbara believes it is important to give back to the community. She feels fortunate that she is able to share the beauty and power of horses with and in helping others.
Below are some ways that Barbara has given of her time and resources to the community:
Silent Auction Donations
2005 to Today: Barbara supports local charities by donating her services for use in silent auctions, to benefit causes such:
Thorncroft Therapeutic Horseback Riding Inc.,
PVDA Ride for Life (R4L)
Dressage4Kids Benefit
St. Judes Benefit
Great and Small Therapeutic Riding Program
Freestyle Performances in Benefit Events and Donations of Time
Horses and Music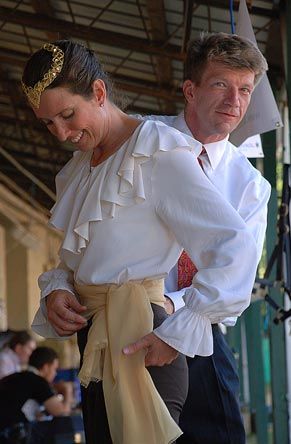 Barbara was inspired to the 'art' of dressage when she saw a performance to music by Linda Zang and John Winnett at the Washington International Horse Show many years ago. Prior to this, Barbara did not even know what dressage was, but when she watched this, she just knew that this was what she had to do. Since then it was one of her dreams to carry the power, beauty and inspiration of horses and music forward for others to enjoy. She has enjoyed doing this in competition and in benefit performances.
PVDA Ride For Life
The PVDA Ride For Life is a Dressage Show to Benefit Breast Cancer Research at Johns Hopkins. Barbara began competing as a rider in the Ride for Life (R4L) show in 2005, bringing in rider donations to benefit the Johns Hopkins Avon Foundation Breast Center.
In 2007, Barbara, working with Pat Artimovich (R4L founder) and Athena Haresign, conceived the idea to host the Jill Hassler-Scoop Dancing Horse Challenge as a part of the R4L. This was an evening of horses dancing to music to honor Barbara's late mentor, Jill Hassler-Scoop, as well as others who have experienced the challenge of breast cancer. Barbara, the Barbara Strawson LLC staff, and supporters donated their time and resources in supporting this event. For both 2008 and 2009, Barbara was Chairman of the Dancing Horse Challenge.
Learn more about the PVDA Ride For Life Benefit Dressage Show. I hope to see you there!
Jill Hassler-Scoop Memorial Dancing Horse Challenge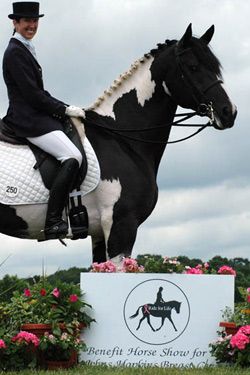 In October 2006, Jill Hassler-Scoop, my friend, mentor, and great contributor to the horse world, died of breast cancer. Jill's passion was horses. Her mission in life was educating riders to improve the lives of horses. By doing this, not only did she improve the lives of the horses she loved, but she had a dramatic impact on the lives of the riders she taught.
Words cannot express how Jill's presence impacted those around her, horses and humans alike. To Jill, educating horses and riders went way beyond learning how to ride a horse – it was a way of life, and a way to learn about life and living in the present moment. Jill taught about the spirituality of horses and how horses teach us about our own nature and spirituality. One of the greatest gifts Jill gave to me was bringing my awareness to this and showing me how to bring this awareness to others.
As my mentor for many years, Jill showed me much more than how to be a better teacher and trainer. To honor Jill, I worked with Ride for Life founder, Pat Artimovich, and coordinator, Athena Haresign, to create the Dancing Horse Challenge in June 2007. In 2008, I became the Dancing Horse Challenge Chairman and continued in this role in 2009.
I have taken great satisfaction and comfort in knowing I have done a small part in the fight against breast cancer and also in following through with one of Jill's precious gifts. I will continue to support the Ride for Life and Dancing Horse Challenge by performing the tribute and riding in the PVDA Ride for Life Competition. I will continue to look for ways to honor Jill's memory and use her gift by bringing awareness of the healing power of horses to the community.
Remembering Three Years of the Jill Hassler-Scoop Memorial Dancing Horse Challenge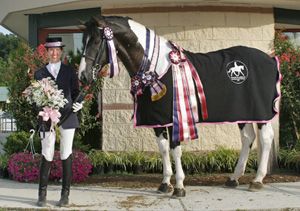 The 2007, 2008, and 2009, Jill Hassler-Scoop Memorial Dancing Horse Challenges were huge successes. As a part of the PVDA Ride For Life, this event raises money for the John's Hopkins Avon Foundation Breast Center.
Over these 3 years, Barbara and her team recruited wonderful performances by such international riders and Olympians as Courtney King-Dye, Belinda Nairn-Wertman, Chris Hickey, Cesar Parra and Jane Hannigan.
In 2008, four–time Gold medalist Nicole Uphoff-Selke was our first celebrity gala speaker and celebrity judge. USA Olympian, Debbie McDonald, followed in 2009 as our celebrity gala speaker and very happily watched as two Brentina Cup riders also performed in the 2009 Challenge.
In addition to the People's Choice winners (2007: the Ladies of Wyndham Oaks, 2008: Jane Hannigan and in 2009: Brentina cup rider Jennifer Sirrine), in 2009, Top International judge, Linda Zang, picked the Rosenthal Land Rover prize winner (Belinda Nairn-Wertman), with a total of $5000 going to the top contestants.
Each year a highlight was the tribute performed by Barbara in honor of Jill. The first year was very special with a lot of emotion. Barbara, with the help of Marybeth Lewandowski and Hilary Moore, choreographed a ride to the music of Melissa Etheridge: I Run for Life and Meet Me in the Dark. She performed aboard Socrates, owned by Randy Johnson.
In 2008, Frank and Cece Maddlone of Equichord graciously gave their time and expertise in donating the choreography and music for the tribute. Barbara again rode Socrates and performed to Josh Groban's Remember as well as the theme music from Gladiator. Equichord, Barbara and Degas took the tribute to new heights in 2009 with the help of the Bowen McCauley Dancers, Hope Garden dance studio and the music of Eva Cassidy: Fields of Gold.
The 2009 tribute honored these amazing people:
Jill Hassler-Scoop
Gloria Huggins
Grace Dalrymple, who had been a John's Hopkins Breast Center volunteer
Patricia Ryan, sister to Olympian and celebrity speaker, Debbie McDonald
Gloria's sister, Lucretia, performed sign language during the playing of the National Anthem, a recording of Gloria. The choreography for the Tribute was done by Equichord's CeCe Maddlone and Hope Garden Ballet's Fran Ichijo. The Bowen McCauley Dancers were:
Alicia Curtis
Dustin Kimball
Suzanne Creedon
Brooke Urguhart
---
Other Community Activities
Great and Small Therapeutic Riding Program Open House 2010
Chesapeake Dressage Institute Hosts La Fiesta del Verano, the Party of the Summer (August 2008)
Wyndham Oaks Quadrille Challenge to Benefit the Great and Small Therapeutic Riding Program 2007 and 2008
2007 Green Cup Polo Match to Benefit Environmental Organizations
Horse 'n' Around 4H Club Presentation in Clarksburg, MD