George Williams Weekend
The weathermen predicted that the weekend of August 5th and 6th would have the best weather of the entire summer. And for once, they were absolutely right!! The weather was perfect for the several fun events that took place at my farm.
On Saturday and Sunday, George Williams gave his second clinic of 2017 at Misty Gleann. As always, George was inspirational and encouraging to all of the riders. He works you hard, but you hardly notice because he has you and the horse so focused and in tune with each other. In addition, I heard several auditors comment on how refreshing it was that each lesson was totally individual. So often at clinics you see the same exercises for each horse and rider. George treats each horse and rider as individuals and helps them develop what they uniquely need in the moment.
Heinemann's Story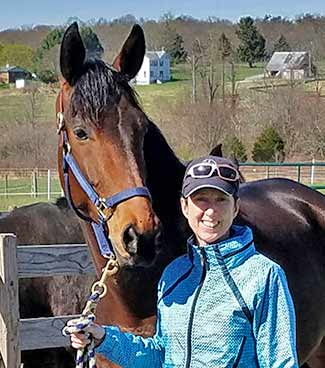 On February 26, 2011 a cute, long eared foal was born on Hof Ettwig in Germany. Two years later, Nicole Uphoff-Selke drove down the farm driveway to see if this was the place to bring her horse Riverdance for boarding. The first thing she saw was 2 year old Heinrich, lovingly called Heinrich by his breeders and owners, Insa and Dirk Ettwig. Heinrich Heine is Heinrich's father, so Heinrich stuck as a barn name. But when it was time to register him with the Hanoverian society, they gave him the more sophisticated name of Heinemann.
Heinrich caught Nicole's eye from the beginning. She loved him and visited him every day when she was in the stable. Nicole always thought she would like to have him as her horse, but she had River, the beautiful bay mare, and 2 lovely boys to raise and a wonderful husband, so having Heinrich join their family was just not in the cards.
Saying Goodbye to a Dear Friend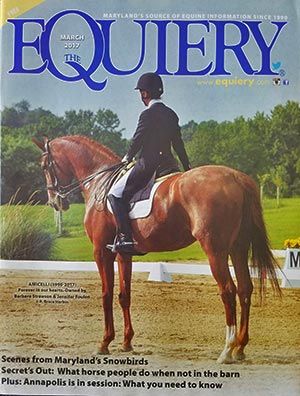 On January 20, 2017 we said goodbye to our dear friend Amicelli. Amicelli lightened all of our lives and we will miss him dearly. Below is a tribute I wrote to him:
Amicelli piaffed and passaged (or maybe even spooked) his way to greener pastures this past Friday.
This horse had so much heart and gave so much over his life. He represented Canada in the North American junior/ young rider championships when he was 6 years old, he debuted in his first Grand Prix when he was 8. And then In his last Grand Prix this summer at 20 years old he got a 76%, the highest of his career. This was a beautiful dance I will always remember. What an amazing soul!
But most importantly, this horse kept me and those around him smiling. He certainly kept us on our toes - never a dull moment with him. Always showing kindness - often with a little mischievous twinkle in his eye. I have been honored and so blessed to have known him. Knowing him, I have grown in so many ways that I couldn't have even imagined and for that I am truly grateful.
A friend shared these words about Amicelli, and I can't think of a better way to describe him, so I will share them with you ..... "Amicelli had a huge presence. Large in stature, generous in spirit, great athletic talent, kind and yet always his own 'person'."
He will always be "The King", loved and cared for by me, Candido his groom, and countless others whose lives he touched.
Go Ivan!
Ivan is in the news!
Ivan, owned by The Stables of Rolling Ridge, and I were one of the featured pairs in The Chronicle of the Horse (Nov 7, 2016 edition) about the BLM championships. He was Intermediare II and Grand Prix Champion at this competition.
BLM Championships a Huge Success!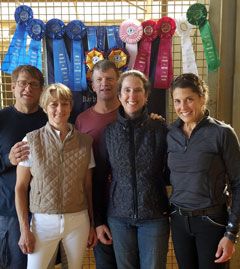 The BLM Championships was the final show of the season. Team Strawson had such a great weekend. It was one of those weekends where everything was perfect and you have to enjoy every minute. I feel so thankful to have such a wonderful team. Candido, Joan and Emily stayed home and took care of everything so the competitors could focus on their show. Students and friends who couldn't go with us were rooting from afar and so supportive of all of the Team Strawson competitors. And those who went to the show were so supportive and helpful with each other. It really takes a team (a village!) to get into that show ring, and we are all thankful for the whole team.
First of all we had wonderful weather (which hardly ever happens mid-October at the championships). Everyone worked so hard and it paid off in the ring, everyone had a great weekend.
Ivan, owned by The Stables of Rolling Ridge, was a star winning the Intermediare II and Grand Prix Championships. I am so proud of him since we really just started competing in the Grand Prix together later in the summer. The future looks great for him!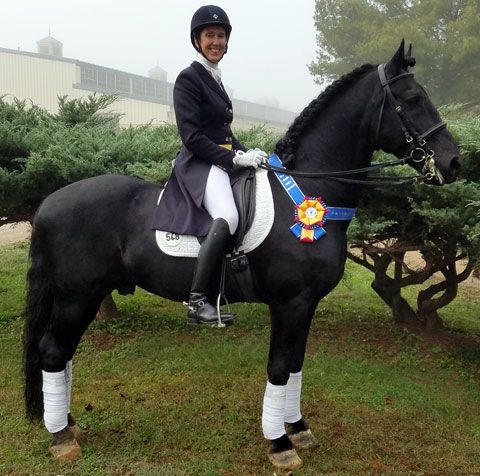 Carol Lippa and Just Livingston got back in the ring after having a year out of competition. It was very emotional for us to see him happy and back in the ring. They won fourth level class and also did their first PSG together!
Debbie Olson and Kasey had a great show, ending up 5th in their First level championship!
Doris Westhoff and Dakotah Wind were Reserve Champion in the Training Level championship!
The training and first level championships were huge classes! I am so thrilled for everyone.
Though the big shows are winding down, we will be taking some of the youngsters out to schooling shows later in the fall and winter, prepping them for the Spring show season.
You see more results at our BLM Show Results page.
Stay tuned for our fall activities.
Show News: September 2016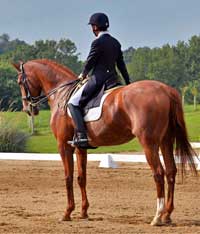 How about a 76% score for Amicelli in the Grand Prix Freestyle at Dressage, at By Chance Farm!
Wow, am I so proud of my boy (co-owned with Jennifer Foulon).
It was such a fun ride and the crowd seemed to really enjoy it, as did Amicelli. At 20, going on 21, he just feels better and better. This is the highest score of his Grand Prix Career so far. With this score, he won the Dark Star Sheppards Musical Freestyle Challenge high score award.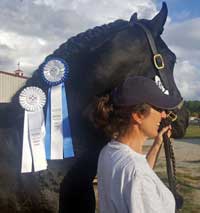 Ivan, owned by the Stables of Rolling Ridge, was also stellar at this show, winning his two Grand Prix classes!
Ivan continued doing Rolling Ridge proud, just coming off of the Region 1 USDF finals in NC. He won his Grand Prix class on Saturday, was 4th in the Intermediare II on Friday, and on Sunday in the Grand Prix Final took home 6th place. Not too shabby for just our 3rd competition together at Grand Prix.
It's Official – Daily Dose Equine is now sponsoring Team Strawson!
I am so excited to announce that Team Strawson is being sponsored by Daily Dose Equine LLC. Daily Dose Equine Provides "Healthy food for the same price".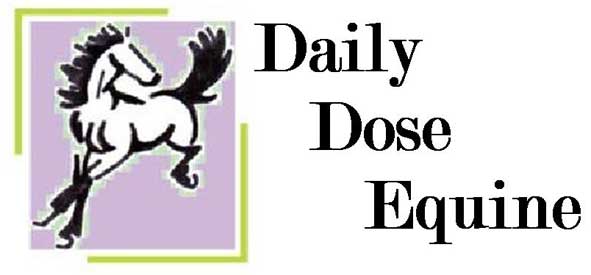 Daily Dose equine is dedicated to providing high quality and nutritional products. They believe that the best outcome in health, performance and longevity are achieved when your horse or dog is getting the best nutrition.
And so far this has proven to be true! Fueled by Daily Dose Equine Senior feed, Amicelli took home 76% in the Grand Prix Freestyle Dressage, at By Chance. He looks shiny and feels great. And always a picky eater, he is licking his 'plate' clean.
Please contact Barbara, or Daily Dose Equine, This email address is being protected from spambots. You need JavaScript enabled to view it.. if you have any questions.
Bring on the Winter (Well ...)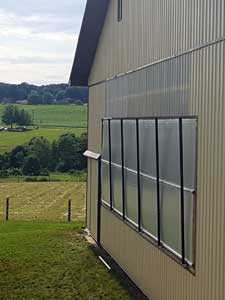 Not really ... I love summer ... but I am much more excited going into the winter now that the Misty Gleann indoor ring has new window curtains. They are absolutely beautiful.
Installed by Shady Lane Curtains, LLC they are motorized, super quiet and transparent, so they let in a lot of light on those cold, windy, winter days.
It took me a long time to find exactly what I wanted but it was so worth the wait. When the curtains are rolled up, you don't even realize they are there, so it doesn't change our beautiful view. And when we need them, with a push of a button they roll down and poof … no wind!
So many thanks to those who made it possible! I am so fortunate for the team of people I am a part of.
News Tidbits
August 2016 - Wow! What a great night we had at the 'Join the Journey' Fundraiser on July 23rd. Read a note from Barbara and see lots of pics of the evening over at Barbara's Facebook page.
June 2016 - Team Strawson proudly announces our Join the Journey Fundraiser, Saturday, July 23, 2016, 5-8pm. Help us raise funds for Barbara's next International Dressage Partner!
December 2015 -Barbara receives a PVDA Scholarship to attend the Mary Wanless teacher training. Thank you to the PVDA!
Summer 2015
Barbara and Amicelli receive their highest Grand Prix score together! At the Dressage by Chance show, they earned a 74% with their Grand Prix Freestyle winning the FEI Musical Freestyle Challenge sponsored by Dark Star Sheppards for having the highest scoring FEI freestyle. They won Musical Freestyle Reserve High Score, sponsored by Jane Gates, for having the second highest freestyle score of the entire show.
Barbara and Ivan received a top score of 75.526% in the Intermediare 1, at the Dressage at Heavenly Waters horse show. They received the high FEI award and also the high score Friesian award.
Barbara and Ivan also won top honors at the Dressage by Chance Show. They won the FEI High Score award, sponsored by South Mountain Equine, by winning their Intermediare 1 test with a 69.079%.