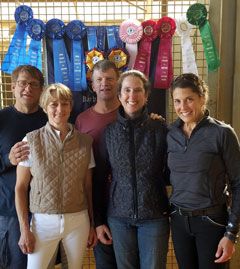 The BLM Championships was the final show of the season. Team Strawson had such a great weekend. It was one of those weekends where everything was perfect and you have to enjoy every minute. I feel so thankful to have such a wonderful team. Candido, Joan and Emily stayed home and took care of everything so the competitors could focus on their show. Students and friends who couldn't go with us were rooting from afar and so supportive of all of the Team Strawson competitors. And those who went to the show were so supportive and helpful with each other. It really takes a team (a village!) to get into that show ring, and we are all thankful for the whole team.
First of all we had wonderful weather (which hardly ever happens mid-October at the championships). Everyone worked so hard and it paid off in the ring, everyone had a great weekend.
Ivan, owned by The Stables of Rolling Ridge, was a star winning the Intermediare II and Grand Prix Championships. I am so proud of him since we really just started competing in the Grand Prix together later in the summer. The future looks great for him!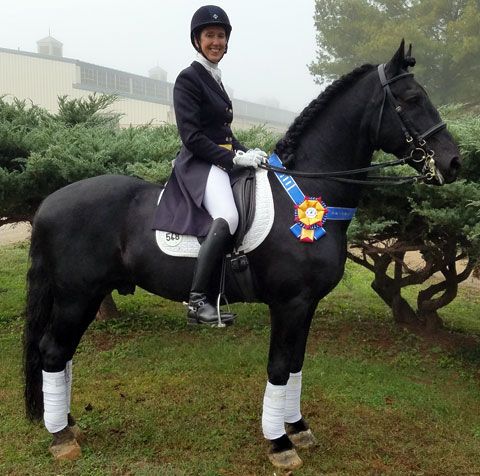 Carol Lippa and Just Livingston got back in the ring after having a year out of competition. It was very emotional for us to see him happy and back in the ring. They won fourth level class and also did their first PSG together!
Debbie Olson and Kasey had a great show, ending up 5th in their First level championship!
Doris Westhoff and Dakotah Wind were Reserve Champion in the Training Level championship!
The training and first level championships were huge classes! I am so thrilled for everyone.
Though the big shows are winding down, we will be taking some of the youngsters out to schooling shows later in the fall and winter, prepping them for the Spring show season.
You see more results at our BLM Show Results page.
Stay tuned for our fall activities.