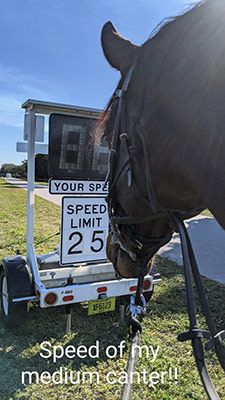 Dear Diary,
Woohoo!!! I went to a show! Oops, My Person asked me to first share some things from HER diary about The Team Tate Mentorship and Leadership Fund grant, which she was awarded from The Dressage Foundation.
Sorry though, I just can't contain myself, I have to share my news about the show. My Person and I danced!! We got a 75.375% in my third level test 3. I'll tell you more about it later. I also have a video to show you. But I better do what My Person asked - here is more about the grant.
But still speaking of the show - In her diary she said one of the many reasons she is so grateful to have the grant to train with George in FL is his guidance at the show. She and I haven't had much coaching at shows. George was a huge help. Not only is his eye impeccable but he keeps us focused on our goals with the right amount of patience and challenge when it is needed. (You will see more about that later)
One purpose of the grant was to work with a mentor. My Person believes that a good mentor is also a good example for the leadership skills you want to develop. My Person was drawn to George's example when she met him in Germany for the first time. He was very friendly and open and seemed like a natural leader. He seemed to be a good sportsman. And watching him dance with his partner Roche in Germany was a thrill.
In the years that have followed, as My Person has gotten to know George better, she continues to see these qualities in George and then some. They say it comes from the top. Well, that is just what My Person has experienced during her time in FL. George, Roberta and their group are so welcoming and have made us feel a part of their team. Everyone watches each other and supports each other. My Person and I can see that George has a wonderful rapport with his students. He can be fun, relaxed and joke with them yet push them when needed. There is a definite sense of camaraderie with George's group. He even takes time to pet ME and have his own conversations with me. You can tell he really loves US horses.
George sets a good example by working hard, having high standards, yet remaining kind and respectful to those around him. It is amazing how busy his day is in FL. Yet in each time block set aside for a student, they get 100 percent of his attention. (Unless there is an Iguana in the ring or falling out of trees - George likes to watch Iguanas)
My Person say that another treat about having the grant to work with George is that as a professional it is a unique chance to focus on your own training and recharge your batteries. This energizes her to be a better trainer, teacher and leader when she gets back home. My Person works on her own a lot (as do many trainers with their own businesses), so this is just a phenomenal opportunity. And while she considers herself extremely lucky because she has a wonderful 'village' it is wonderful to have the chance to strengthen existing relationships as well as develop new ones in FL. My Person thinks other trainers may agree, that in working on your own a lot, sometimes you need somewhere to turn or talk to about training or other business ideas. So developing relationships with others, like George, who 'have your back' is very important. (My Person has enjoyed meeting and comparing notes with other professionals here in FL as well)
Oh, and one more thing. Speaking of 'the village'. We all know what a big village it takes to keep us horses going in the 'fashion to which we are accustomed'. This may sound like a cliché but it is so true. There are so many people who have to be behind us horses and their Persons in order to do the many things we want to do. It takes so much coordination to get everything covered. We just want to thank the many people who are making it possible for us to train in FL this winter.
Ok, now on to my daily diary.
January 25, 2021
Today's lesson theme was quickness. And straightness. We always have a theme. We did a fun exercise today for our canter pirouettes. It was a combination of half passes and quarter pirouettes. I had a really nice canter pirouette to the right and the last step coming out I did a flying change I wasn't supposed to. So it was perfect except that one step.
George said My Person has to want it more! He also reminded her to stay on the exercise no matter how distracted I get. (You know , I like to look at things).
January 26, 2021
It is amazing how many different kinds of animals we see in FL. You've seen some of my adventures with different birds, donkeys, iguanas, lizards and much more. My Person sees even more animals! Randy who owns the farm where I live also has cats. She has her own and she helps foster rescue cats. She keeps them safe, healthy and happy until they find new homes.
Wendy and Lou, where My Person has her stall also rescue and foster animals. They have cats, dogs, cows, donkeys and maybe even more that she hasn't seen yet.
I have included some photos!

January 27, 2021
So in our lessons 'they' keep having a discussion - George and My Person say that I am 'blowing her off'. Really? I thought she was the one who didn't want it enough. 😝. But George said that I also have the responsibility to listen and step up to the plate. (My Mom was actually agreeing with him! She thinks it is a big point at the moment. Not sure I like where this is going. I am happy with my life). But I did do 3 nice changes on the diagonal, what more could they want??!!
January 28, 2021
Trucks, trucks everywhere! Big trucks, little trucks, trucks pulling tractors, tractors pulling trucks, trucks pulling trailers, trucks lifting garbage cans, trucks lifting men in the air, trucks lifting branches in the air. I'm good with trucks! And vehicles! There are motorcycles, golf carts, (And I even looked at a golf cart pulling a horse and I didn't run away this time), golf carts pulling trash cans and even motorized golf carts they call gators. I am such a good boy about vehicles!!
And birds! (Except EMUs - is that even a bird?). White birds. Brown birds. I can even walk along and have a flock of birds fly up in front of me. No problem.
January 30, 2021
Oh man was she pissed off at me today! But I had so much fun 'taking the Mickey out of her'. So we headed down the driveway to leave for our lesson. Me, sweet as pie. And oh so cute. We have to push the white button to open the gate so we can get out. I thought it would be really fun to pretend there was something scary and spin around. Was so much fun because we ended up back at the barn. She finally got me back up to the gate and it had closed again. She pushed the button again. while we waited for the gate.... Bingo, you're right, I thought it would be fun to spin again. We got back up to the gate just as it was closing.. hahahaha.... let's do it again. 😆 😆 😈 😈 😇 . The third time the gate closed she was really fuming mad. She jumped off of me, got that darn rope halter and we did some exercises on the driveway. Then we marched down the road all the way to George's. She was walking sooo mad😡 ! I couldn't even keep up with her.
When we got there George raised his eyebrows in question. She said "Heinrich is in so much trouble". And "We are doing 5 frickin' changes on the diagonal today". "OH" George says, 'A day of reckoning". She says "absolutely and we are getting right to work."
And wouldn't you know it, I did a wonderful job (George couldn't imagine I was such a stinker). And we while didn't do the 5 changes on the diagonal we DID go around the whole ring and were able to fit in 4 flying changes on the long-sides.
On the way home, just call me Mr. Sweet as Pie...... 😂
Ps....there were two more break through moments in that lesson. One was when we were doing our half steps. My Person said it's the craziest thing to hear that simple thing right at the right time. George had reminded her that her job was to keep me straight and keep the steps small. Let George ask for the energy. Just at the right time he said 'relax your leg'. And Bingo, I was immediately able to do my half steps wonderfully!!
The second thing was in our medium trots. George said, 'you are going way too fast'. Once we slowed it down I was able to control my steps and keep a nice rhythm.
January 31, 2021
My Person got a really special treat. Gardy Bloemers invited her to watch the Grand Prix Freestyles at the Global Dressage Festival. We thought it was so thoughtful of Gardy to ask!!
First off, what do 'we' wear? My Person didn't know so she asked ME! Well, I knew enough to tell her NOT to wear her new oatmeal colored 'weekender top' from the new EQL by Kerrits line. I would have slobbered all over it. Check out the website though - it is their new "lifestyle apparel brand" that "combines casual performance with passion for horses". I did finally recommend she wear last year's Kerrits Sunshirt. I know she likes that shirt and it was a warm day.
The dining tents were airy and open with good social distancing, so My Person felt pretty comfortable eating out. This was the first time she ate out since the pandemic started.
My person had so much fun watching and getting to meet new people. Gardy, another of George's students Kim and and their friend Phyllis were so nice! They ordered drinks called 'the adequan'. Made of prosecco and cranberry juice, she said they were yummy and refreshing. Adequan is the sponsor of the Global Dressage Festival.
Meanwhile back home there was a snow storm raging. The village was hard at work. Our Sunday helper couldn't make it in, so Brian and Quincy held down the fort. They took care of the horses all day, plowed the driveway and made sure all horses were happy and content.
We are again struck with gratitude for how many people help so that we can be here in FL.
February 1, 2021
OMG we did four 4 tempi changes for the first time ever!! Woo hoo!!!
Here are the themes for today:
Keep me straight between the aides.
Keep me in front of the aides
Since I know the changes, if I don't answer, abort and re-set up the change
February 2, 2021
I am writing a short story.
It is called A Tail of Two Donkeys. The setting is in Little Ranches, Wellington, FL.
Here is the outline:
Two terrifying Donkey's scare the most handsome horse around and He doesn't want to walk by them.
He has figured out the perfect evasion by spinning around in the middle of the road intersection.
Occasionally he will walk by them by himself but he prefers to follow someone like his new friend Felix. One time he followed a paint horse who asked him if he was actually scared of him (paint horse being ridden) or the paint horses in the field. The handsomest horse in the land said NO, it is the paint Donkey that scares me!
The Donkeys like to come out and play with the handsome horse and sometimes call his name which is even more scary.
t is really scary when the Donkeys race and play up and down the fence line with the neighbor horse.
Sometimes the handsome horse just pretends to be scared.
This handsome horse's little brother is curious about and even likes the Donkeys. The little brother will even lick the Donkeys' ears.
I am not finished with the story yet. I am still working on the ending.
February 3, 2021
We did it again!! Woo hoo!!! Four flying changes every 4th stride!!
Same themes as the other day. Another thing George keeps telling My Person in our canter is that she has to have my 'hind legs under'. That means I have to be active and they have to be stepping under my body, not trailing out behind.
George also reminds us that 'in front of the aides' doesn't mean bigger canter. It means energy in the canter with the same size strides, not longer ones.
We also had really good piaffe steps that we were able to keep longer. Things are coming along and I like it!
February 4, 2021
We have our show this weekend at White Fences in Loxahatchee , so we got to school at the show grounds a day ahead of time. The show is very close so we drove back and forth each day. It was quite exciting because I hadn't been to a show in awhile. There were so many horse vans and we couldn't park with everyone. We had to park across the street all by ourselves. This made me a little nervous because it was hard to tell what was going on. I was really excited when we walked over to the practice ring. But we did do some of our rope work and it got me focused.
'We' felt so good riding. It was exciting and I did my fancy trot! George and Roberta said I looked very nice. Roberta was also very nice because she gave me some tips on my medium trot. (And I got a 9 on one the next day by the way. Thank you Roberta!!)
February 5, 2021
Oh what a day!! We DANCED at the White Fences horse show. I loved showing off my fancy trot and my flying changes. I did act all spooky going around the ring before my test, but my person was like 'get over it Heinrich'. So I got over it and even showed off some of my piaffe steps.
I did everything my person asked, just like we have been practicing with George. George was there to prepare us before the ride. We thought it was so nice to have someone there to help us and get us geared up for our class. Two of George's students were also there to cheer us on. I like to show off.
My Person felt soo happy coming out of the ring. She and one of her friends in Germany had this saying when they would compete. When they rode well, they were riders. When they didn't ride well, they said they rode like fishermen. My Person's thought coming out of the ring was that she was a rider, not a fisherman! She didn't say that to George though, she came out and said "George, I really rode that test!" Of course we had things to tweak... like my halt rein back. But overall we were so happy and I got lots of pats and treats. And we were so happy to feel excited about the ride AND get a 75%
Here is a video link if you would like to watch my test: https://www.dropbox.com/s/chs08v8lqvfg1wx/Barbara%20Strawson%202%205%2021.MP4?dl=0
February 6, 2021
White Fences Show second day: "I saw dead people!" (Or donkeys). That's my excuse. Our warm up went well. Maybe we both were a little tired? I already spent lots of energy the 2 days before. She teased that is was a bitter pill to swallow after getting a 75%! I think she was the 'fisherman' and not the rider today. She said we need to be more consistent. George said there were 'accuracy issues' that weren't there yesterday. There is always something to be learned!! Next time we see George we will have more chance to talk about our rides.
February 7, 2021
I was soo tired today. Didn't want to move. I hope I'm going to get a break for a few days.
When My Person was able to talk to George about the show she said "lay it on me George". He said that she definitely rode differently the second day. He said "you have to have 100% confidence in your horse's fitness." He said that whether consciously or subconsciously My Person might have been worried that I was tired or worried about My breathing since it had gotten so warm. She asked him how he knew and he said, well you said something in the warm up. So George thought she rode a little more conservatively and didn't expect as much of me. (Nice for me that I am still perfect and it was her fault!!)
An interesting tidbit that George shared was that this is a discussion that they have regarding the high performance riders. Being able to have 100% confidence in your horse and not let some underlying worry hinder your performance. These riders need to be super focused and not let anything alter the way they ride.
Again, My Person felt so grateful to have this opportunity with George because that is what she needs - someone who can lay it out and keep her on her toes! Without George's keen eye and intuitive understanding we may not have understood the key point we need to focus on for competition. She also asked George to yell at her next time! George said "great, I like yelling". LOL.
February 10, 2021
Well fortunately I did get a much needed break the last few days. I think I'll be going back to George in a day or two.
In the meantime, My Person took my little bro Woody over to get used to George's farm. They might get a lesson one day soon. Since it is so scary over there- you know with all the EMUs, and Iguana's falling out of trees, etc.... I told Woody to be careful! Just to be safe, we had George's brave working student, Emma, ride Woody there for the first time. My Person said Emma did a fabulous job and Woody looked very happy riding with Emma. He likes her. He was very good for her. He did all his nice walk, trot , canter paces and he also did his leg yields, shoulder in and even a walk canter transition! (We don't think that was on purpose. LOL)
My Person hacked Woody back home. She said he was so good. Even better than me. Wait a minute ... that's not fair. None of the weird things happened for Woody like they do for me - you know, like wet Emu's running around, sprinkler's turning on, palm fronds falling down, donkey's poking their nose through the fence or racing back and forth with the neighbor horse. The only weird thing that happened to him is the donkey's calling. But apparently he just said "HI" back.....
He also saw the 'man who hates horses yard' with the man who hates horses in it. He was wearing a back pack and spraying something out of it. Woody perked his ears a little and then said "HI". My Person even said hi and the 'man who hates horses' actually said Hi back!!
Humpf.....Well, I can't help it if My Little Bro can't 'see dead people' like I do.
February 11, 2021
The days are running together it is hard to keep track while you are here in FL. Our time to return to MD is also quickly approaching. But I am sure we will have more adventures to share before we return!
Signing out for now
Your Friend,
Heinrich
#TheDressageFoundation #IloveKerrits #DailyDoseEquine