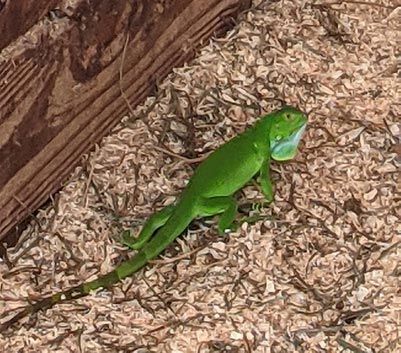 My Person says time flies so fast and she doesn't know where the time goes. Now I know what she means. I felt like I just wrote about my first lesson with George, and now here we are two weeks later!! One day just seems to blend into the next and sometimes its hard to remember what day it is. Here is what I have been doing the last week or so...
January 13, 2021
Do you remember I sent George a photo the other day of the Iguana in the driveway? Well, I had to send him another photo. This is now my pet iguana. He lives in the stall with me! We all get along well - me, my iguana, my unicorn and all of my toys.
We had another lesson with George today.
My person was so happy!!! She even wrote in HER OWN diary that she felt so so happy. The highlight today was that we made 2 diagonals each way with 3 flying changes. We have done this some, but today was the best I ever did it. My Person stopped and gave me some big hugs and kisses and said "George, did you think we would ever see the day?!"
My Person was really in sync with her seat aides. She was able to communicate to me well with her seat and leg and I was able to respond with more connection and push from behind. We even had enough push, straightness and connection to get some really nice fancy prancy trot steps (they call it passage ).
All the way home we were chatty and happy. Until....
You may think I'm a scaredy-cat, but it's a crazy world. My person even says "every day is a new day out there". Sometimes I say "every hour is a new hour out there." Sometimes when I walk over to my lesson with George things look one way and they can completely change on the way back.
This happened today. Being a horse, I don't exactly know what the expression 'Running the Gauntlet' means. But I can imagine it is like trying to go back and forth to my lessons.

Today on the way there I was so good going past the scary palm fronds. But on the way home there was on ORANGE bucket on top of the palm fronds. Oh my oh my. I started to go by them - scooting to the right so I didn't have to go too close. When I scooted to the right, well, CRAP, I came face to face with a staring dog on my right. Orange bucket on my left. I documented all of this so you could see in today's photo album.
Well, shoot shoot shoot ... My legs are frozen but you can . imagine my nose snorting and looking left-right, left-right, left-right. Orange bucket - Staring dog - orange bucket - staring dog - orange bucket - staring dog.
What do I do? What do I do? Staring dog made the decision and he became 'Lunging Barking dog' very quickly.
Once again my legs took over and I very quickly launched toward the street.
Uh Oh. She stopped me. We stood. She was muttering something. It didn't sound so good. I actually can still hear My Person's ears ringing. I could tell her neck hurt. She called it whiplash. I was so scared, but I hurt my person. That's not good. I don't want to hurt her. I know she still loves me though. We only had a short distance to go home. At least after the scary orange bucket and staring dog the plastic bag we passed was no big deal.
January 14, 2021
We are all really settling in. Life for us horses isn't too bad. I did want to let everyone know how smart I am. A couple of people commented to My Person that since English is my second language perhaps my spelling isn't the best. For example, they said I spelled Wooden Nickle wrong. I am just letting you know that I am so smart and I CAN spell. Woody's name IS spelled Nickle. It says so on his papers and I checked to make sure!
By the way, my little bro is coming a long. My Person mentioned that their steering wasn't as good as she thought. They are used to working in the arena with walls. Here we don't have walls. The first time they cantered to the right they almost went out of the ring. But they are figuring it out now.
January 15, 2021
We have an exciting day today. Not only do I have a lesson with George, but our friend Carol Lippa is coming to visit. She is visiting Bobby in FL - Bobby is my friend who also came from Germany. So Carol came to see us! She came and watched our lesson and then she, her friend and My Person got to have dinner out on the patio by the pool.
Here is what we did in my lesson with George:
My Person said for the first time she truly feels like I understand to really bend and go forward from her seat. She said I listened so well to bend around her inside seat bone and I enlarged very well from inside seat to outside rein. From this she said we had a much better connection!
Each ride we are focusing that I push equally through from behind and accept her half halt through the outside rein. Everything feels much more solid. I know these expressions sound so 'cliche' but that is the thing about us horses. As our human's learn more and more they better understand the deeper meaning of these expressions they use all the time.
We started piaffe steps again! George reminded my person to just focus on keeping the steps short and let him help energize me. Also she needs to keep me straight and not use too much leg.
I keep hearing the word 'straightness' and equal push from behind. They say one leads to the other.
They are teaching me to 'bounce' off of the ground. I like bouncing!!!
January 16, 2021
My Person said that the only bad thing about FL this year is that because of the pandemic, she can't go watch the horse shows (She said we are going to compete in some though).
Instead she is taking any opportunity she can to go watch training. For example, today she was able to go watch one of the trainers, who is stabled at our barn, have a lesson with Alison Brock. Everyone at our barn is so nice. My Person was grateful she was invited to go watch. She said Alison Brock was a very good teacher and Lehua rode so nicely. She said it was good for her to watch because they were working on a lot of transitions but at the Grand Prix level, so she and I can have a picture of what we will be doing soon!
January 18, 2021
Well, in my opinion the lesson was all about My Person today. (And I could tell she had been a little impressed with herself because George hadn't corrected her too much so far....snicker snicker)
It actually started because she said she watched the video Carol took and there were several things she didn't like seeing.
So here are the things they worked on:
Position - left hand down and keep back. Left shoulder down. For core stability.
Keep contact steady - when I want to fuss she has to sit there and keep connection. Don't be too quick to let go of rein. (I like to talk her into letting go of the rein. Though George says its not a terribly bad thing because My Person is trying to be soft in connection)
In transitions, and especially super collection - She needs to help me "stay centered between aides and stay supple"
Attitude - My Person needs to have a definitive attitude, expecting me to keep up to her standard. (Like when I get distracted and try to get out of work). George said that I need to keep up to my own standard too - especially in the flying changes. (Hey, wait a minute ... is George suggesting that I am not always perfect ???? Nicole said I can do no wrong, so if something goes wrong it's always My Person's fault)
Both George and My Person agreed that an underlying theme for our time in FL is for My Person to achieve a steadier connection and to keep me more consistently focused in my work.
Later this afternoon My Person had a Telehealth session with her Physical Therapist. They talked about the ear ringing episode (orange bucket-staring dog). The PT gave my person some exercises to help reactivate the muscles in her neck which may have been stressed when I jumped through the air. They also talked about today's lesson and the position things that George talked about. They came up with some exercises to help improve it. The PT suggested wearing some ace bandages that would connect her shoulders and hips. I guess we will see how they work! I added some pictures of the exercises to today's album.
January 19, 2021
Our friend Carol came to visit again! This time she came to see Woody. Woody and My Person went though all of their paces and showed off for Carol. Plus Carol got a special treat and she got to ride Woody - they did some nice walk and trot together.
Then the three of them went for a hand walk around the block together.
My Person and Carol also got to have another dinner outside by the pool.
January 20, 2021
She called it the "Walk of Shame". But I just could NOT go by the donkeys. She said I turned "into a pretzel" in the middle of the road intersection and we were slipping and sliding on the asphalt. I just couldn't help it, the donkeys were in the corner and when I got closer they stuck their heads through the fence to say Hi.
One thing (well there are probably more) she doesn't like is slipping and sliding on asphalt. She said she had a horse go down with her on asphalt and it wasn't fun. So she got off to lead me and she seemed kind of mad. That's when she called it the "Walk of Shame". She doesn't think I was really scared.
When we got there, George always asks how the ride over was. She said I didn't want to come today. She even called me a not very nice name. I knew I better be good in our lesson today.
And boy, was I ever good. I was sooooo good, that I think Santa Claus will come visit next year even though maybe the donkey thing deserved coal in my stocking.
BUT TODAY I did the Grand Prix trot half passes!!!!!! AND I did the Prix St. George canter zig zag with the flying changes. I was oh so good!!!
This was the day My Person was thinking the renver exercise would be good. Wouldn't you know it, George had us do walk trot transitions in renver. It made me feel like doing piaffe steps.
We did our shoulder-ins. My Person said I did the best shoulder-in right that she EVER felt!!!
Throughout the ride we focused on staying straight (there is that word again). Keeping my head and neck centered on my shoulders. We all really had a break through in the half steps. My Person figured out how to keep me straight going to the left. And then how to stay quiet in her connection and also in her legs. Things are coming along.
We also had a really collected cadenced trot. We got it because we were able to stay straight and get that equal push from behind that we keep talking about. George said it was the perfect collected trot!
At the end of the ride George whispered in my ear. I don't think My Person heard it. But he whispered ... "Heinrich, you are going to figure out the piaffe pretty quickly, aren't you?"
My Person was also wearing the ace bandages recommended by her Physical Therapist. George thought she did a much better job of keeping our connection and keeping her position correct.
It was a great day. So even though we did the walk of shame going to the lesson, on the way back we were so proud of all the fancy things we did.
I was so proud, I even went by the donkeys. It helped that the 92 year old mother in law with the walker who belongs to the nice man with binoculars was also going by the donkeys. This helped me go by the donkeys too! The nice man said he was watching her take her walk because she gets confused sometimes. Perhaps she was confused because she should have been scared of the donkeys.
January 21, 2021
My Person got to go watch Carol and Bobby ride! They were in a clinic with Kathy Connelly. Kathy has a lot of wonderful exercises just like George does. They worked on corner exercises a lot. They rode into the corner, halted, turned and trotted out. This was to help with collection and control of the outside shoulder (and it does many other things too). Carol and Bobby looked fantastic. We miss them.
On the way to see them, My Person's truck flashed a warning signal. This day ended up being a crazy day for her. She made it home and called several truck shops. They were all booked for over a week. Finally, someone at the Ford Dealer said bring the truck in, we'll see what we can do. Once she got there no one remembered her call and said they didn't have time. But, there was a really nice man who went to talk to someone and they said they would try and diagnose the problem that afternoon. Our really nice friend Randy picked My Mom up from the truck shop.
The next thing that happened when she came back to ride me was that I had a big front leg. She got so worried!!!! But after she walked me the swelling went down and she found a little scrape. This was the cause of the swelling. My Person remembered last year one of the horses got a very bad summer sore and was off for several days. So she called the vet. The vet said to keep it covered at all costs. Don't even leave me alone with my leg uncovered for 5 minutes.
So we have been doing that and even though I usually eat my front bandages, I have been really good since it is so important that my leg stays covered. (Plus she is putting soap on the bandages)
That evening My Person stayed at the barn until barn check so she didn't have to walk back and forth too much in the dark. It's about a 20 min walk from barn to house.
Our friend Randy was nice again let My Person drive her gator home. My Person had a lot of fun driving it too. In today's photos you can see a picture of her driving back the next morning.
The people who own the 'stall' where My Person stays at night are also very nice.
Wendi and Lou prayed for our truck. On this hard day and night they also surprised my Person by bringing her dinner. Everyone is so nice and My Person is so grateful.
By the way, our truck had a clogged exhaust system. They will clean it out tomorrow. If that works, it will only be $650. If it doesn't work, then it needs a new exhaust filter and it will be over $6000!!! The nice man was crossing his fingers for us!
January 22, 2021
When we got to our lesson today George said, "Heinrich, you've got weeds on your nose". I guess My Mommy didn't do a very good job of grooming me. We get these weeds on our noses after turn out every day. You will see some pictures of the weeds on Woody's nose. He wanted me to make sure that everyone knows that he has a very cute nose too!! We both look very cute with weeds on our noses.
We had a very nice lesson today!
An overall theme for today was to maintain correct bend and roundness in all of our work (so overall, bend/suppleness, roundness/throughness, straightness. Guess we never heard that before?)
We started some pirouette exercises. We turned down the quarterline and made quarter pirouette turns. It was important to remember to make the turns in 2 strides, maintain quickness and forwardness from outside leg. George reminded us when doing something new, to go back to basics to explain. So first ride me forward from outside leg as I learn the exercise and then eventually we can add more forwardness from inside leg. But right now, too much inside leg pushes me out too much and I can also confuse it with a flying change.
In our half steps, My Person told George how she figured out going right that she was too busy in the connection and when she got quiet I had my best steps. And then going left, when she figured out how to keep me straight without over riding I got my best steps this direction.
George reminded her that each time we need to "learn from the feel and learn how to help our horse better." He said that "It isn't always that the horse doesn't know what to do, but we have to learn how to help him better."
January 23, 2021
Wow, what a week! I can't believe how much we have done in such a short time. I was so good this week that I had the day off today to relax!
This was so much to write that I need to rest. See you next time!
Ps. Our truck is fixed. It was the easy fix. My Person was never so happy to pay $600! When she got the truck she and the nice man talked about how luck and prayers were with her. They didn't have time, but then they found it for her. And then they could fix the truck and it wasn't the expensive fix. She even was called an young lady. Everything worked out!