January 7, 2021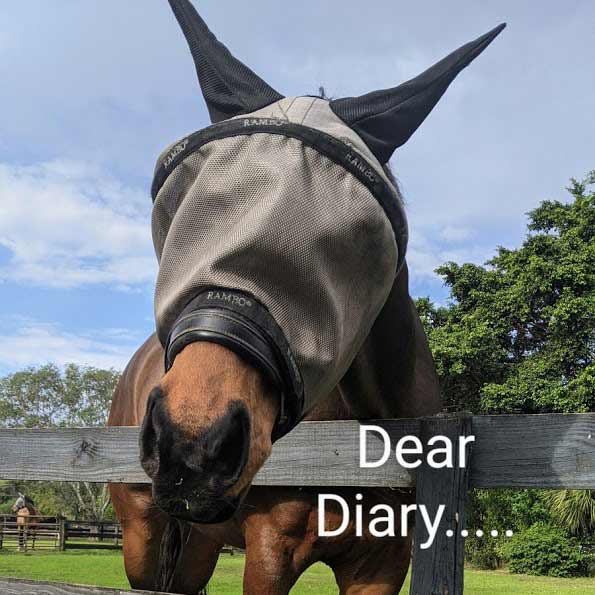 My person has been so preoccupied with a lot of things, I haven't gotten her to write in my diary for awhile. (I am so smart but I still haven't figured out how to type with my hooves). I think the last time was my Covid update. So there hasn't been much to write since we are still in the Covid times. Everything sure did change since last winter.
There have been some silver linings though ... My person's person is home a lot and he even comes out to watch us ride in our Pixio lessons with Nicole. It's so fun when we have the lessons because Nicole tells me how beautiful I am, how my muscle has changed, and how I am just the perfect horse who can do no wrong. Yet she tells my person what to do better so I look even more beautiful. It's never my fault, always hers.... hehehehe. I am not sure she agrees?
The other silver lining is that my person received the Inaugural Team Tate Mentorship and Leadership Fund Grant. We were so honored to receive this. It can be used for several things. One purpose of the grant is to promote leadership and mentorship in the horse world. My person said she has been lucky to have wonderful mentors and opportunities and is excited to have the opportunity to further develop these skills and relationships. She is using part of the grant to develop her relationship with George Williams and work together with George in helping me take my next training step - into FEI (for our humans who don't know what this is, it is the international level competition). George is a very good teacher and has offered guidance and advise to my person on several occasions.
Some Humans believe it is important to develop good relationships and good leaders to set examples for other more inexperienced humans. And I can't write about mentors without telling you how lucky she is to have my friend Nicole Uphoff Selke as a friend and mentor. Nicole was my good friend since I was 2. I am happy to share my friend Nicole, as she led me to my Person. Nicole is excited for us to work with George in FL. She thinks he will help make my trot even fancier, you know, the one where I do the fancy prancy trot and the one where I trot in place.
The other thing my person will do with the Grant is to attend the Washington Women's Leadership Summit, to develop her own business and leadership skills. And hopefully, next year she will be able to attend the Trainer's Conference in FL, as it was canceled this year. My person says it is very important to continue her education in many ways. It is important to work with others, set good examples and in return for the good opportunities be there for others who need guidance and help.
With Covid, it was a hard decision for us to come to FL this year. But the opportunity has presented itself and My Person and her close support network decided to go for it. She is taking as many precautions as she can to be safe, yet continue with the good work we do!
We loaded up for our trip early Saturday morning Jan 2! She told me where we were going, so I had a pretty good idea. In the week before we were to leave, I got a little surprise. The young whippersnapper Woody (actually my Mom says he is not a whippersnapper. He is very humble and sweet) was going to come with us. OK, I finally have to share about Woody (Wooden Nickle) in my diary. He has been raising his hand for quite sometime now. But it really has been all about me. And my Mom didn't have a lot of time to ride him, and now it's getting more serious. He will be 6 in May. But more like a 4 or 5 year old in experience. But that's OK. He has had a lot of growing to do.
So the thing is, my person's Grandfather used to always say "Don't take any Wooden Nickles". It was his thing to tease her about, besides calling her horses an old plug. So here my person did it ... took a Wooden Nickle and an old plug to boot. Hahahahaha. She wouldn't dare call me an old plug, so I better be careful what I call Woody. The thing is (and don't tell her that I admit this) but Woody is the sweetest thing. She wanted him because he is the half brother to the Professor Just Livingston, as well as the beautiful girl Shiraz. My person has always admired their personalities and movement, so their breeder, Gert Stearns called her up and said I think you should have Woody. So now she does.
So since their was an extra space on the trailer, he came with. My Mom keeps saying to set a good example. Humpf. I am the perfect example regardless. He was good on the trailer ride, as was I. Except one time when I ran out of hay, I ate the side padding. I don't know why I did it. I just couldn't help myself. Otherwise I am so good.
Laying over in Aiken, SC Woody and I became even better friends. So now he is my little ???? bro. I do have to show him how important I am, when My person and I went for our hand walk I had to do my loud calling at first. But Woody, he didn't seem too impressed, he's just chill.
When we stopped at the FL state line where the agent with the guns had to check our papers, Woody knew how to butter him up. By the time we left we were all smiles and laughing. I did wonder — did he like Woody better?? Nah, that's impossible. Woody was just on the safe side of the trailer away from the road for photos.
We arrived in FL on Monday evening. We settled in for the evening very quickly. It was much easier than last year because I know my way around and I could explain to Woody what to do. The first thing Woody did was walk in and drink from the automatic waterer. Last year I was scared of that thing, but I couldn't let Woody know it, and I walked right over to it and drank too.
I am being such a good big brother, that I don't know why my Mom keeps saying ... "you better set a good example". Like she doesn't want me to call all the time like I like to do. Woody did start to mimic me a little, but she told me to stop it, so I did. (Mostly)
The first day we got to go out in the fields. I just can't help myself and I like to run around. So Mom makes me graze in hand for awhile first. Woody on the other hand was very curious and just loped around for fun. Even when I ran a little crazy he was good ... Another warning from my Mom.
But overall I think she is very happy with how I am doing. She says I am a lot better than last year and that maybe at almost 10 I am growing up. Even when we did our first ride I was such a good boy. I remember there was a squirrel last year that used to chase us along the fence and I liked to run with him. I thought about pretending he was there, but then decided not to, and let my person have a nice relaxed ride. It's good I did - I had to carry her around, she felt like she hadn't been riding in a month ... hahahaha.
We are looking forward to our first lesson with George. We think it is Sunday. I can't wait to show him our new fancy trot that we got since November.
Woody and I are getting settled into our routine. My person takes care of us, and basically attends to all of our needs, of which there are many. Woody should thank me, getting to live the high life like this. He even gets the alfalfa cubes like I do.
My person said she is settling in to her stall as well. It is only a 3 minute drive from the barn so it is easy for her to come look at us at night. We get to celebrate with alfalfa and I think you will see a photo of her celebrating her first night settled in to her new stall with a cup of Prosecco (thanks to one of her friends that sent it along for the occasion).
She hasn't even explored her surroundings yet. The family has many rescue animals. So far she has met just the cats. I am sure she will meet the others soon. The cats are getting used to her finally. Last night she told us that when she came out of her room (it is an efficiency that attaches to a beautiful patio), all the cats came running to greet her. She said she never saw so many cats!!
Well, this is all I have to share for now. Stay tuned for when we start training with George!

My person is taking pictures for me, they are almost as good as my writing skills. You can click on the blue image, Dear Diary: Today's Photos, to see them!
Your Friend,
Heinrich